NEWS
2023-03-07
Delphine is nominated for the Swedish Grammis!!!
Swedish composer Andrea Tarrodi´s latest album "Four Elements" (dB Productions), featuring Delphine performing the commissioned Harp Concerto "Choryn", has just been chosen as one of the nominees for the Grammis, which is the biggest music price in Sweden!
2022-12-20
ENTHUSIASTIC CD REVIEWS!
The album "Four Elements"  (dB Productions) featuring Delphine performing A. Tarrodi harp Concerto is acclaimed by the press in Sweden and abroad. For example the main Sweden´s newspaper Dagens Nyheter places the album in the Top 5 of the classical albums of the year and BBC Music Magazine writes a positive review: Andrea Tarrodi: Four Elements - Orchestral - Reviews - Classical Music (classical-music.com)
2022-09-02
NEW CD RELEASE!
Today, dB Productions ( Sweden) has released swedish composer Andrea Tarrodi´s newest album, "Four Elements". On that album, Delphine is performing Andrea Tarrodi´s harp concerto "Choryn" together with the Nordic Chamber Orchestra, conducted by Patrick Ringborg.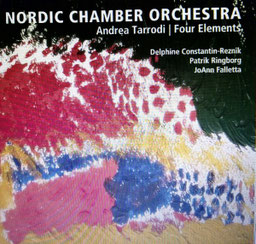 2022-03-31
"CHORYN" AIRED ON THE SWEDISH RADIO P2
The harp concerto "Choryn" that swedish composer Andrea Tarrodi wrote for Delphine will be aired on the Swedish Radiostation P2 this evening. This is a live recording from February 22 where Delphine performs the piece together with the Swedish Chamber Orchestra conducted by Anja Bihlmaier.
The concert will be available during 30 days.
https://sverigesradio.se/avsnitt/delphine-constantin-reznik-spelar-andrea-tarrodis-harpkonsert
2022-01-21
THE PRATTÉ ALBUM IS THE DAILY "EMPFEHLUNG" AND GETS TOP RATINGS BY KLASSIK HEUTE!
The recording received by the Klassik Heute Magasine 10/10 on all criterias: artistic quality, quality of sound and general impression!
http://www.klassik-heute.de/4daction/www_medien_einzeln?id=23832&Empfe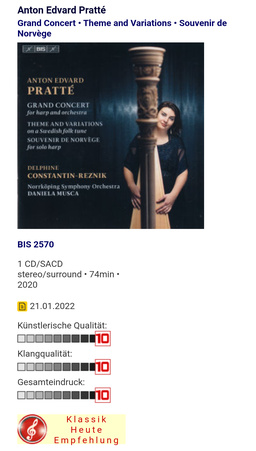 2022-01-10
THE PRATTÉ ALBUM IS A PART OF THE BBC MUSIC MAGAZINE MONTHLY SELECTIONS!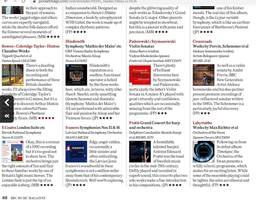 2021-12-12
TOP SCORE ON MUSIKREVYN (Swedish Radio P2)!!!
Delphine´s newest album Pratté "Works for the Harp" ( Bis Records) received the maximal score (5/5) on the prestigious radio program Musikrevyn, aired on the Swedish Radio P2,  where the newest recordings are beeing judged by a panel of music experts!
https://sverigesradio.se/avsnitt/bernard-haitinks-sista-forestallning
Morever, Naxos Direkt has been adding Delphine´s album to its list of the 2021 most acclaimed albums!
2021-12-05
ENTHUSIASTIC REVIEWS WORLDWIDE FOR PRATTÉ RECORDING!
Delphine´s new album , Pratté "Works for the Harp" ( BIS Records) is beeing praised by the critics, among others in Crescendo Magazine ( Belgium) -where it received the top score for interpretation, Musicalifeiten ( The Netherlands), and Fanfare Magazine (USA). The recording has been played recurrently to this day on the swedish (SR P2), danish (DR), dutch (NPO4), french
(France Musique) and american radio channels. It also hitted the Top 10 list of best selling albums on Naxos Direkt!
2021-10-01
SOLO CD RELEASE FOR BIS RECORDS
Today, BIS Records released Delphine´s new CD!
This is the first ever  recording (Super Audio CD) of the newly rediscovered romantic swedish harpist and composer Anton Edvard Pratté ( 1796-1875). Delphine is playing some of the composer´s solo works and also his Grand Concerto for harp, featuring Norrköping Symphony Orchestra conducted by Daniela Musca. This recording is available on BIS-2570 from BIS Records https://bis.se/a-e-pratte-works-for-the-harp, eclassical.com and other digital platforms.
2021-09-26
ANOTHER CONCERTO PREMIERE
The swedish composer Lisa Streich (b.1985) wrote a Concerto Grosso for trumpet, viola, percussions, harp and orchestra to celebrate the 250 year jubilee of the Swedish Royal Academy of Music. This joint commission will receive its premiere on October 7, featuring Elias Svanberg ( trumpet), Crista Bergendahl (viola), Martin Orraryd ( percussions), Delphine and the Norrköping Symphony Orchestra conducted by Fredrik Burstedt.https://norrkopingssymfoniorkester.se/konserter/tre-svenska-ess
2021-09-20
AT LAST! WORLD PREMIERE TARRODI HARP CONCERTO LIVE PERFORMANCE
Andrea Tarrodi´s Harp Concerto "Choryn" finally recieved its World Premiere Live Performance on September 18th, in Falun, Sweden!
Delphine performed together with the Dalasinfonietta Orchestra conducted by Roberto González Monjas. Listen here to the replay ( the concerto starts 34 mins in):
https://musikidalarna.se/play/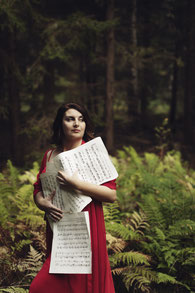 2021-05-26
PUBLISHING MUSIC
Introducing here the first results of Delphine´s ongoing collaboration with harp music publishing company Alaw Music Wales! They are publishing together for the first time in history the vast solo harp repertoire written by recently rediscovered harpvirtuoso and composer Anton Edvard Pratté (1796-1875) and already a number of these beautiful and virtuosic pieces, can be acquired here:
http://www.alawmusic.com/shop_online/new_releases.php
The number of publications will be successively filled up during these coming weeks and months and several of those pieces will be part of the repertoire of the next Pratté International Harp Competition, planned in January 2022
2021-03-01
SUMMER HARP COURSE
Delphine was invited to teach at the 4th Arpademia Summer Academy, that will take place between July 20 and 27 in Lu Bagnu, Sardegna,Italy
Spots still available
2021-02-25
FROM A WORLD PREMIERE TOUR TO A WORLD PREMIERE CD RECORDING
The Harp Concerto "Choryn" , written for Delphine by swedish composer Andrea Tarrodi was supposed to recieve its World Premiere in March 2021 followed by a tour in Sweden, together with the Nordic Chamber Orchestra conducted by Eva Ollikainen.
The covid pandemic made it impossible but instead, a CD recording will be done at the same period with that same orchestra conducted by Patrik Ringborg.
Release of the CD in 2022 (dB Productions)
2021-02-08
 PRATTÉ INTERNATIONAL HARP ACADEMY
Inaugural session on March 6&7 on Zoom, together with Catherine Michel and Delphine Constantin-Reznik.
More information here:https://www.delphineconstantinharpist.com/academy/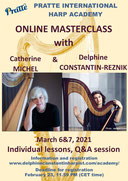 2020-10-28
New Harp Concerto "Choryn" by Andrea Tarrodi: WORLD PREMIERE
"Choryn",  especially written for Delphine, will receive its world premiere on 18th of March 2021, followed by a tour with the Nordic Chamber Orchestra, conducted by Eva Ollikainen.
This concerto, a joint commission by the Nordic Chamber Orchestra, the Dalasinfonietta and the Swedish Chamber Orchestra, was partly inspired by a book written by the Swedish author Kerstin Ekman. More information here: https://nordiskakammarorkestern.se/evenemang/5462-2/
2020-06-22
SECOND INTERNATIONAL PRATTÉ FESTIVAL AND COMPETITION
After the success of the first edition in 2019, the decision to plan for a second edition of this event has been made. Preliminary dates are : 15th to 22th of January 2022. Check the website for further details:
https://www.pratteharpfestival.se